From the HOD's desk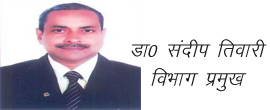 Dear Visitors,
It is our Endeavour to give you something extraordinary, factual, evidence based and important. As balanced food is needed for looking after all the healthful nutritional needs so is true about the need of the balanced education. Effective
Quick Links
NEW Revised Adhoc Panel List (June, 2018) read more...
Notification: Amendments to Ordinance (Ph.D.) read more...
Notice for the candidate, applied for including name in Adhoc Panel under OBC CATEGORYread more...
Journalread more...